GAIN Fitness Dream Team: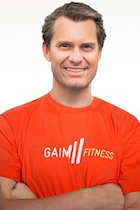 Chief Executive Officer
Michael Tanne is a successful, serial entrepreneur who has started several companies, including AdForce (IPO), XDegrees (acquired by Microsoft), and Wink (acquired by Reunion) and invested in over 30 companies, including LinkedIn, ICON Aircraft, Wikia, BrightRoll and Fundly. He previously led product at Verity (IPO), led a technology accelerator in Poland and worked at Apple. Michael earned an EE from University of Alberta and an MBA from Stanford.
When Michael isn't growing early stage companies, he can be found on the ski slopes, at a hockey rink, on a wreck dive, or training for a marathon.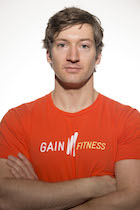 Founder & Chief Product Officer
Nick Gammell worked at Google, YouTube and Blurb across a variety of finance, product, marketing and operations roles. He started his career in management consulting at Deloitte, working on strategic initiatives for several Fortune 500 companies. It was at Deloitte when Nick first conceived of GAIN, struggling to maintain his fitness in the face of long hours and sporadic gym access.
Nick grew up a multi-sport athlete and attended Carnegie Mellon University, where he played Varsity Football. He is currently in the process of becoming an ACE certified personal trainer.
Designer
Jan Schwarzenberger founded a product and design agency in Germany at the ripe age of 18 years old. He has more than 9 years of diverse product design experience, having worked for several years as a designer-in-residence at a venture capital firm, where he set design standards for a dozen different early stage companies. He has co-founded 4 of his own companies, including a platform for life coaches.
Jan's passion for fitness includes a history of bodybuilding. It's no coincidence that his last name is pretty close to another well-know bodybuilder named "Arnold."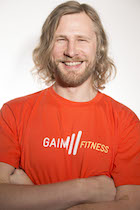 Tech Lead
Matt Whittaker is a seasoned technology leader who founded two companies and has built and led engineering teams at several others, including Blurb, Afar Media and IBM. Matt has over 12 years of hands-on experience across both large and small companies. He has lived through multiple waves of tech evolution in Silicon Valley since migrating here in 2006, honing his expertise in Ruby on Rails and several other technology systems.
Matt is an avid snowboarder, basketball player and yoga enthusiast. With a 6'8" wingspan, he also swings a mean kettlebell.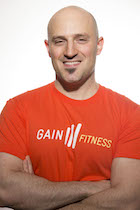 Sr. Mobile Developer
Nick Della Valle has been developing iOS apps for 4+ years, having worked at two venture-backed companies and managed his own freelancing business. Nick has built and launched half a dozen iPhone apps spanning fitness, food, fashion and social dating. Nick is a New Jersey native who studied computer science at Cornell University, and also earned a Masters in CS while working full-time.
Nick is an NSCA certified personal trainer and runs his own group-based fitness business in between iPhone programming and strength & conditioning sessions.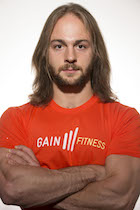 Mobile Developer
Sam Goldstein is a software developer and a modern day renaissance man. He started at GAIN in 2012, quickly defining and streamlining efficient processes across partnership, content and technical integration, before moving into a developer role. He studied Philosophy, Physics and Mathematics at Bates College, with a one-year stint at Columbia University.
Sam is a former wrestler, a collegiate pole vaulter, parkour enthusiast and handstand aficionado. For fun, he leads volunteer boot camp classes in the parks of San Francisco.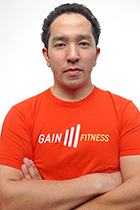 Software Developer
Elijah Windsor was the founding developer at Flywheel, one of the first ride-booking apps to hit the market back in '09. He loves developing things that haven't been done before, and brings 9+ years experience in mobile and web development to the GAIN team. He has been part of several startups as well as operated his own consulting business.
Elijah grew up in Indiana and earned a bachelors degree in Computer Science from Purdue, which means he's a Hoosier and a Boilermaker. Naturally, he's both a basketball player and a nerd, and uses fitness to elevate his game both on and off the court.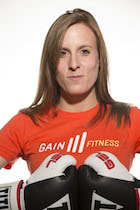 Trainer Network Manager
Kristen Meister brings a passionate blend of technology, sales, fitness and personal training to the GAIN team. She previously did biz dev at Gigya, a social media CRM company, while maintaining an independent personal training business. Prior to that, she was a fitness director at Western Athletic Clubs and a top grossing trainer at 24 Hour Fitness.
Kristen has trainer certifications from ACE, NCSF and ACSM, and boasts an impressive athletic record: she was an NCAA All-American, Team Captain of the UC Berkeley Track and Field team and a High Jump finalist in the 2012 U.S. Olympic Trials.
Marketing Associate
Sean Ziegler holds down the fort as GAIN's marketing and operations associate. A Miami native, Sean studied Medicine, Health & Society at Vanderbilt University. He previously worked in brand marketing and promotions at a bank, a nightlife management company and, yes, Chipotle. Sean claims he will never eat another Chipotle burrito.
Sean hails from a fitness-conscious family, with a personal trainer and an orthopedic surgeon as parents. His two distinct fitness goals are currently mass-building and handstand perfection.